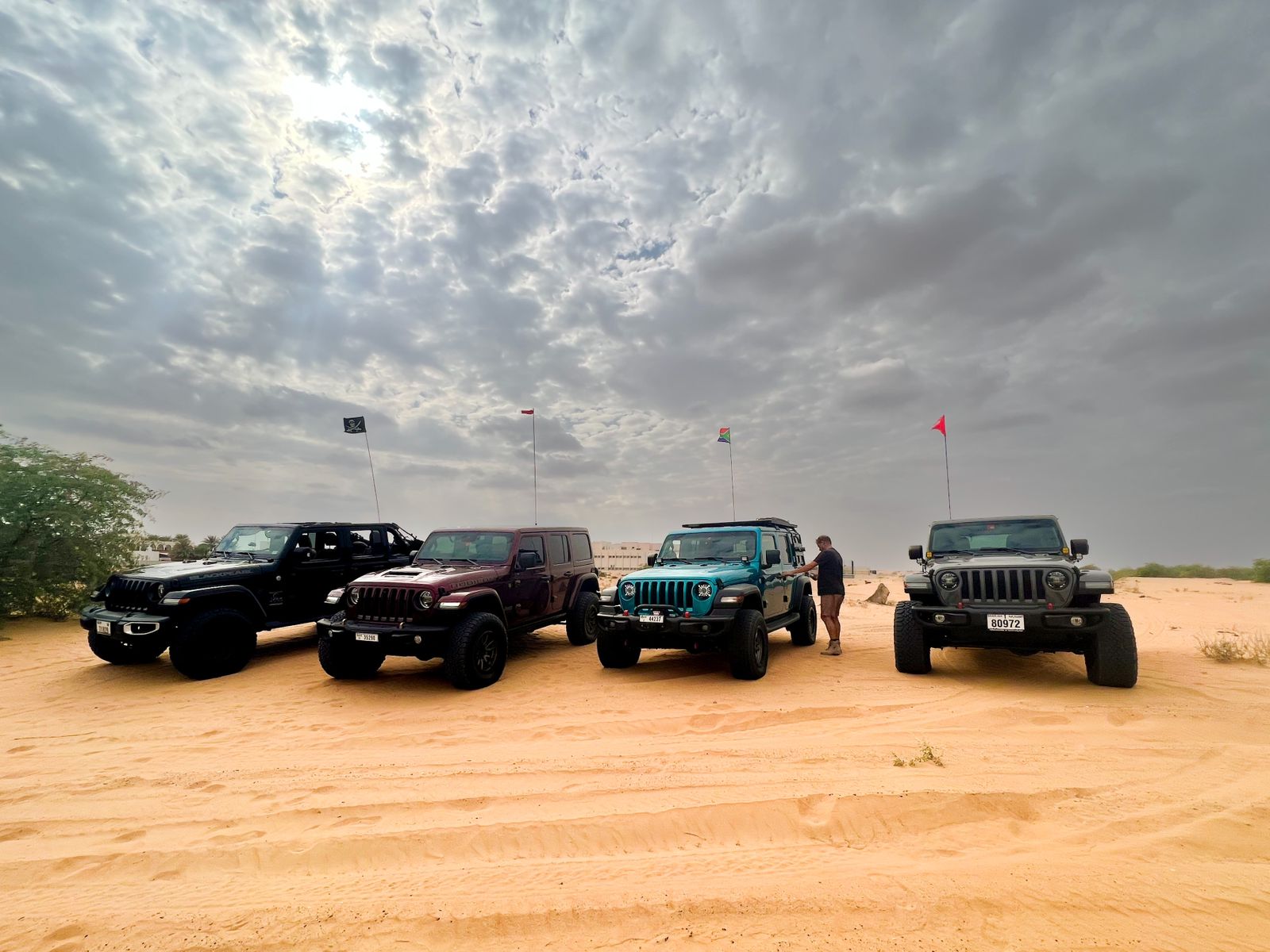 2 STAR INTERMEDIATE MORNING DRIVE LEAD BY CLAUDIO
TIME SCHEDULE
Meeting time: 08:00 am on Sunday 19 February 2023
Drive starts: 08:30 am on Sunday 19 February 2023
Drive end: 11:30 am on Sunday 19 February 2023
THIS IS A MEMBERS ONLY EVENT AND IS RESTRICTED TO DUBAI OFFROADERS TWO STAR OR ABOVE MEMBERS ONLY.
THE BOOKINGS FOR THE EVENT WILL BE LIMITED TO 8 CARS AND WILL CLOSE AT 12AM, MIDNIGHT, ON SATURDAY 18 FEBRUARY 2023 , ONE DAY PRIOR TO THE DAY OF THE EVENT.
A WHATSAPP GROUP WILL BE CREATED AFTER THE CLOSURE OF THE BOOKINGS AND THE RELEVANT INFORMATION WILL BE DIRECTLY CONVEYED TO THE CONFIRMED PARTICIPANTS.
Checklist
a) Ensure your 4 x 4 vehicle is in perfect condition and with enough fuel.
b) Compatible Radio.
c) Carry all necessary offroad gears, in good condition.
d) Carry enough Food/ water / refreshments / re-hydration drinks for self & co-passenger(s).
Please read the following and register for the drive: –
a. https://dubaioffroaders.com/web/welcome-to-dubai-offroaders/
b. https://dubaioffroaders.com/web/disclaimer/
c. https://dubaioffroaders.com/web/4×4-offroad-checklist/
d. https://dubaioffroaders.com/web/sand-driving-safety-basics/
e. https://dubaioffroaders.com/web/forums/topic/25-tips-for-an-enhanced-offroad-driving-experience/
f. https://dubaioffroaders.com/web/forums/topic/do-radio-communication-guide/
g. https://dubaioffroaders.com/web/forums/topic/driving-in-a-convoy-roles-and-rules/
h. https://dubaioffroaders.com/web/forums/topic/trip-rules-for-dubai-offroaders-drives/
PLEASE CONTACT BY WHATSAPP, IF YOU ARE NOT ABLE TO SEE THE ATTEND BUTTON OR NOT ABLE TO REGISTER FOR THE DRIVE.
IMPORTANT:
a. The Driver of the vehicle must have a Valid UAE Driving License and the vehicle, Driver and passengers must be covered by an appropriate insurance cover.
b. The Driver and all passengers of the vehicle should have read and be aware of the disclaimer of Dubai Offroaders, that they indemnify all the officials and Marshals of Dubai Offroaders and that they themselves bear full responsibility for any risk of property damage, bodily injury or death while participating in this Adventure sport.
c. This drive is not recommended for children under the age of 3 years.
d. Any child on the drive must be secured in an age-appropriate car seat, or bolster seat.
e. Seat belts must always be worn by the Driver and all/ any passengers.
Checklist:
a) Fully functional four-by-four vehicle with full tank of fuel.
b) Air compressor in working condition.
c) Recovery rope / strap.
d) Compatible radio pre-programmed to DO frequencies.
e) Refreshments for you and your passengers (if you have them).
f) Offroad flag attached to vehicle.
Etiquette:
1) Registering and not coming along may stop others from joining and is easily avoidable – so please be courteous and withdraw if you can't make it.
2) Be punctual.
3) Any participants not registered on the forum site will not be allowed to join the drive.
4) Passengers in Registered participant's vehicles are not counted as participants and are free to join.
The 2 STAR MORNING DRIVE LEAD BY CLAUDIO Slot sales has ended!