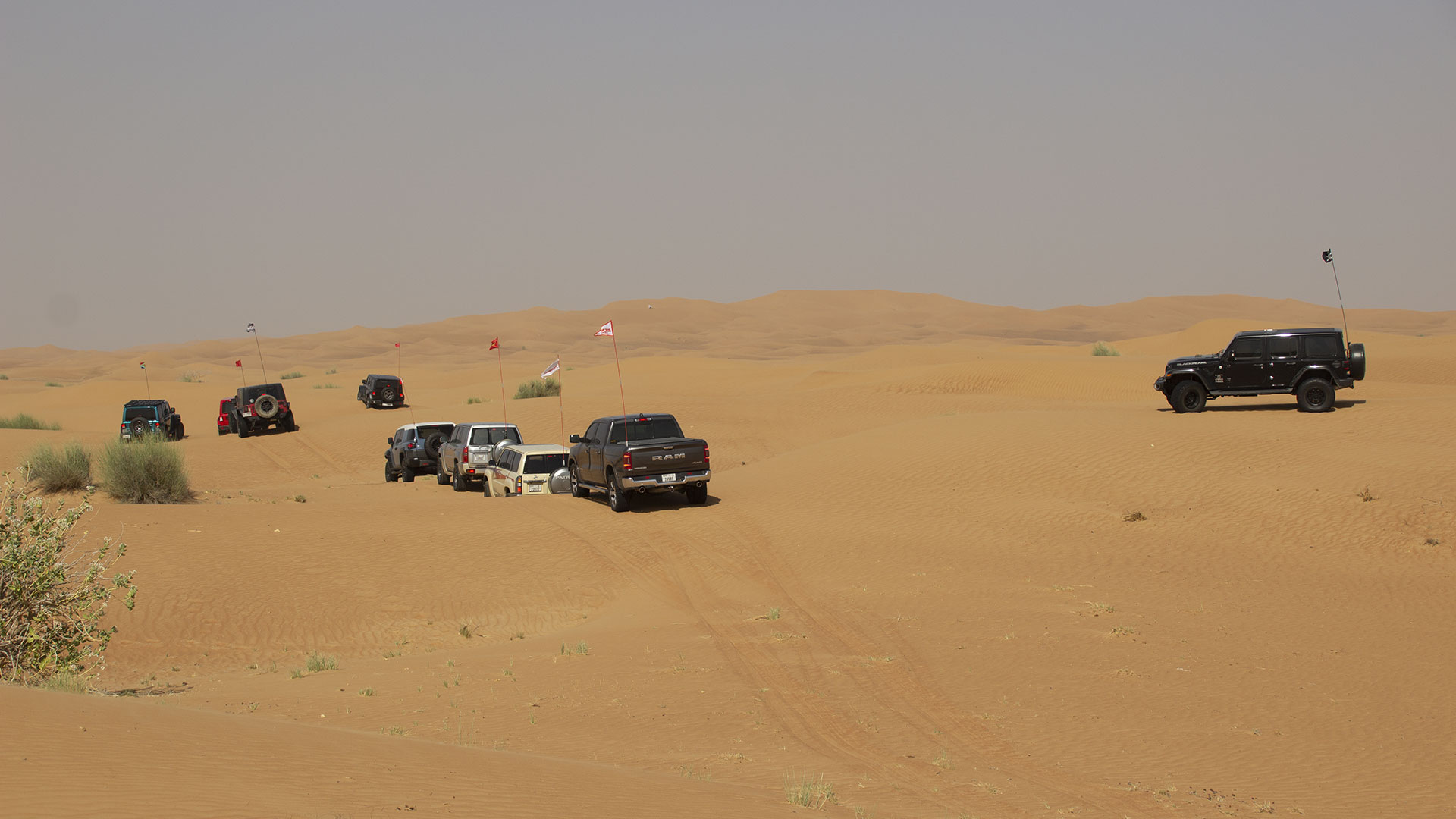 ALL LEVEL BEGINNERS, INTERMEDIATE & ADVANCE DESERT DRIVE ON SATURDAY, THE 24th OF SEPTEMBER 2022
NEW MEMBERS WHO REGISTER FOR THIS EVENT ARE REQUESTED TO PROVIDE THEIR WHATSAPP NUMBERS IN THEIR PROFILE OR SEND A WHATSAPP MESSAGE TO +97152 703 6860 WITH THEIR USERNAME, SO THAT THEY CAN BE INCLUDED IN THE WHATSAPP GROUP, FOR ALL TRIP RELATED INFORMATION.
THE BOOKINGS FOR THIS EVENT CLOSE AT 12AM, MIDNIGHT, ON THE DAY OF THE EVENT.
A WHATSAPP GROUP WILL BE CREATED AFTER THE CLOSURE OF THE BOOKINGS AND THE RELEVANT INFORMATION WILL BE DIRECTLY CONVEYED TO THE CONFIRMED PARTICIPANTS.
Meeting Point: To be announced.
Please be punctual to avoid making many others wait for you, as well as to maximize our time on the sand.
IMPORTANT:
a. The Driver of the vehicle must have a Valid UAE Driving License and the vehicle, Driver and passengers must be covered by an appropriate insurance cover.
b. The Driver and all passengers of the vehicle should have read and be aware of the disclaimer of Dubai Offroaders, that they indemnify all the officials and Marshals of Dubai Offroaders and that they themselves bear full responsibility for any risk of property damage, bodily injury or death while participating in this Adventure sport.
c. This drive is not recommended for children under the age of 3 years.
d. Any child on the drive must be secured in an age-appropriate car seat, or bolster seat.
e. Seat belts must always be worn by the Driver and all/ any passengers.
Please read the following and register for the drive: –
a. https://dubaioffroaders.com/web/4×4-offroad-checklist/
b. https://dubaioffroaders.com/web/forums/topic/25-tips-for-an-enhanced-offroad-driving-experience/
c. https://dubaioffroaders.com/web/forums/topic/do-radio-communication-guide/
d. https://dubaioffroaders.com/web/forums/topic/driving-in-a-convoy-roles-and-rules/
e. https://dubaioffroaders.com/web/forums/topic/trip-rules-for-dubai-offroaders-drives/
f. https://dubaioffroaders.com/web/disclaimer/
COVID-19 PREVENTION MEASURES
A. All our events are meant only for those members who are fully vaccinated for Covid 19. Therefore, please join only if you are fully vaccinated and this status is reflected on the Al Hosn app on your phone. Your minor children below 15 are fine even if they are yet to be vaccinated, but it's your judgement whether you should take the risk of bringing un-vaccinated children to a large gathering.  Please follow all government guidelines and requirements related to COVID 19. In case, any person around you (family or work colleague) has tested positive for COVID, please do not join unless you have tested negative subsequently and have completed the self-quarantine. In any case, each one of you is requested to download, install, and activate the Al Hosn application on your phone.
B. At the meeting point, please park the vehicles at least 5 meters apart and observe standard social distancing practices.
C. Face mask and gloves are always to be worn.
D. No shaking hands, hugging or any other physical contact.
E. Max three people per vehicle, or four if from the same family, staying in the same house.
F. Drive briefing can be viewed on this page and communications on the day will be carried out by radio, so please ensure your radio carries the correct channel announced on your convoy's WhatsApp group so you can line up correctly once at the meeting point, deflate your tires are deflated and mount your flag.
G. Drivers AND passengers should remain in their vehicles, after deflating their tires and NOT meet or socialize with other participants.
H. There is to be no sharing of any food or drinks.
I. No sharing of any equipment, tow ropes, shackles, radios, or any other accessory.
J. In the event of a recovery, please radio your position in the convoy and vehicle – a marshal will advise you on how to self-recover or will assist.
Checklist:
a) Fully functional four-by-four vehicle with full tank of fuel.
b) Air compressor in working condition.
c) Recovery rope / strap.
d) Compatible radio pre-programmed to DO frequencies.
e) Refreshments for you and your passengers (if you have them).
f) Offroad flag attached to vehicle.
Etiquette:
1) Registering and not coming along may stop others from joining and is easily avoidable – so please be courteous and withdraw if you can't make it.
2) Be punctual.
3) Any participants not registered on the forum site will not be allowed to join the drive.
4) Passengers in Registered participant's vehicles are not counted as participants and are free to join.